Discussion Starter
•
#1
•
Decided to try and make my own inlet manifold for several reasons:
- save myself £190 by not buying a Bogg Brothers one & dont have to wait 12weeks lmao
- Its a good project
- Its custom
- I can port match the face plate to the head exactly, get it sat how i want, and have also tried to work out where my max torque will be, incorperating it into the runner design
The best bit....
total cost = £30 for some ally tube - rest is time
Started off by getting the old 18e inlet manifold and chopped the runners off leaving me with a face plate. then took it to my ladyfriends house and machined it flat (her father handily has a lathe and milling machine). I then bolted it to the head and was gobsmacked how much overlap the standard manifold had, it wasnt round and was a good 3-4mm off centre to the head port, so i got a angry drill thingi and took the excess metal away from it - its now nice n smooth, flowing into the head.
also i got to keep the alternator bracket mount - BONUS!!
here is the face plate:
http://i306.photobucket.com/albums/nn254/chaps1985/DSCN1042.jpg?t=1210806407
I then got 1m off Aluminium tubing from local metal merchants. it took me a while to find the right size tubing to suit the Carb rubbers (i am using the standard R1 rubbers) these have outside diameter of 45mm, and internal of 40mm.... the only pipe i could find was 45mm OD and 37mm ID.. i think it was SWG10 thickness.
I cut a lenght of 60mm off and got it set up in the lathe and got a clean face on it (i cant hack saw straight to save my life). once this was done i set to about opening the Internal diameter to 40mm from 37... i chamfered the inside out over 40mm, i think i set the lathe at 2degrees. it turned out pretty well, so next job was to put a little Lip on the edge so it would locate with the carb rubbers... they have a groove on them to keep them tight. this is what i ended up with...
to make 4 of them took me about 2hrs but i was very happy with them, you can hardly feel a step when u run your finger from the manifold, accross the rubber, and into the carb body.
Next was to make myself a Jig... well, to be fair i must give my mate some credit - he made it 4 me ... to get the carbs and manifold to fit and sit right in the engine bay i wanted to angle them upwards, so i set the jig at 30degrees sloping up towards the bonnet. i can move the carbs up and down, but they are fixed at 30degrees..
here is the carbs with the 4 x 50mm tubes sat in the jig... its a pain in the arse to get it all set up square with the face plate but once u have it right u can lock it up tight so (hopefully) i wont have to set it all up again
as u can see from the photo the carb spacing is narrower than the manifold ports
I then chopped some more pipe up, i wanted the manifold to be about 6" long, so made the middle tubes at 4" abouts, i cut them at 30degrees to save filing, but have had to file n mess about with them quite abit to line up....
Here is where i am at now.... I got the 2 central Runners nearly right.... not perfect but pretty close..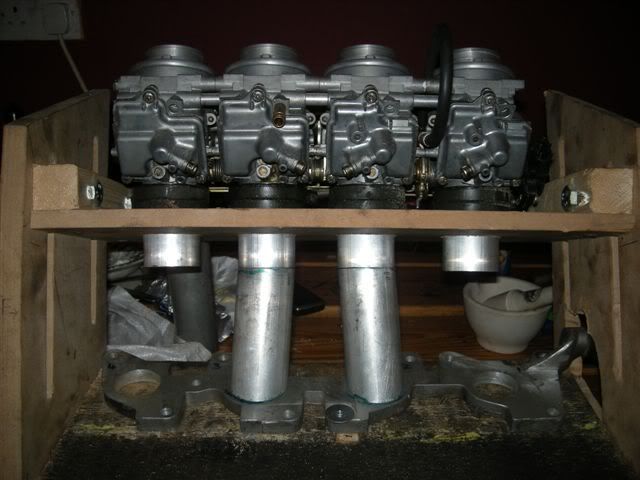 Here is another view, you can see the 30degree angle better on this 1.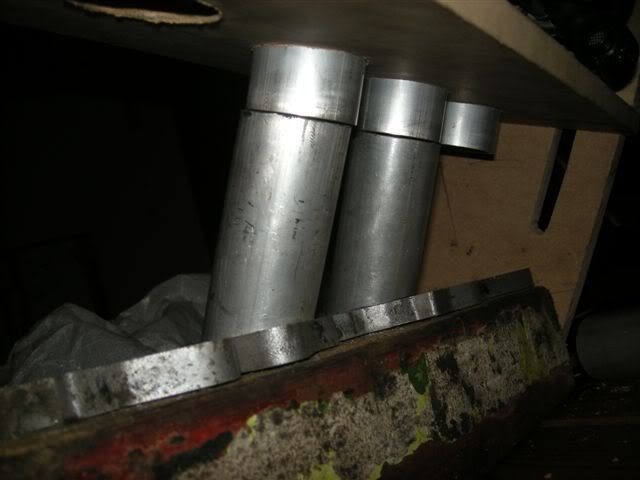 i am hopefully going to the the other 2 runners done in the next few days, i'll post some more pics then.